Resources
This page provides information about national and local policy developments, along with tools and guides to support your workforce development.
---
KCC - Price Reviews April 2016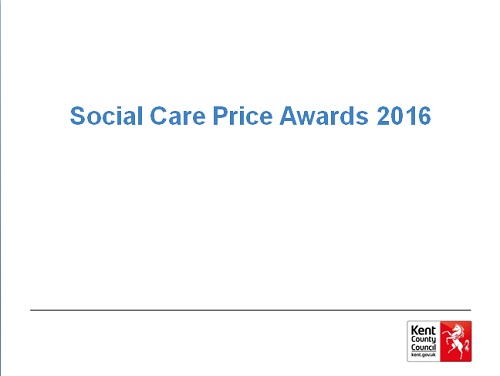 ---
New provider of Patient Transport Services in Kent and Medway
Following a long and thorough procurement process, Kent and Medway clinical commissioning groups have agreed to award the contract for patient transport services to G4S from 1 July 2016.
G4S is being awarded three contracts, which together cover every aspect of the patient transport service for Kent and Medway including transporting eligible patients to and from London hospitals, after being rated top in all three bids by an evaluation by patients, hospital and community NHS staff and commissioners.
G4S will provide non-emergency patient transport for eligible patients in Kent and Medway excluding Dartford and Gravesham NHS Trust; renal patients requiring dialysis; and Dartford and Gravesham NHS Trust patients.
All three contracts were awarded primarily on quality, which counted for 65 per cent in the evaluation. Cost was a secondary though still important consideration, accounting for 35 per cent of the final score. The contracts run for six years with the option to extend by another three. They are worth close to £90million in total over the six years. G4S will take over when the contract with NSL finishes on 30 June.
There were six bidders in all, several bidding for more than one contract. G4S came top on quality for all three contracts by a significant margin, and was lowest on price for one of them.
G4S has a good track record of delivering high-quality patient transport services across the country, including in London, Essex and Surrey.
The procurement this time learned from the previous procurement of Patient Transport Services in 2012, carried out when CCGs were forming. This time the procurement process, led by NHS West Kent CCG, was much more thorough and was advised throughout by an expert who had experience in running a patient transport service and so had a really good understanding of the operational issues involved.
We also had much greater clarity about the requirements of the hospital trusts and much better data on patient journeys.
Patients who had used the service created a charter setting out expectations of a good patient transport service and this helped to form the specifications.
Members of the evaluation panels, including a patient representative, visited premises for all the bidders, went out with crews to watch them at work with patients, listened to how their call centres handle bookings and interviewed staff from hospitals using the service.
---
Learning through Work
With government and local authorities looking to ensure that the best quality care is provided, care providers need to prepare their staff with the qualifications, skills and knowledge necessary for their role. Ensuring care staff have basic literacy and numeracy skills and feel confident using them, can lead to better care. That's why Skills for Care has developed Learning through Work!
---
Personalised care & support planning tool
The characters developed for this tool have physical, mental and social care issues and are eligible for personal budgets for health and/or social care. Their journey's through the system and their interaction with different services, clinicians and professionals is designed to demonstrate how people with complex health and social care needs can experience a joined up approach to personalised care and support planning that improves health and wellbeing outcomes.
---
Adult safeguarding: sharing information
This guide is part of a range of products to support implementation of the adult safeguarding aspects of the Care Act 2014. Sharing the right information, at the right time, with the right people, is fundamental to good practice in safeguarding adults but has been highlighted as a difficult area of practice.
---
Care Certificate Standards
A set of standards to come into effect with the new Care Certificate in April 2015.
---
Dignity in Care newsletter now available.
Have you planned your digni-tea? Are you a Dignity Champion? Have you tested the the Draft Audit Tool? If no have a look at the Dignity Website
---
Deafness Related Courses availble from HiKent
---
New Health and Safety document for care homes published by HSE
---
We would like to introduce you to Cuisine Foodservice.
At Cuisine Foodservice we believe in the traditional values of customer service, offering value for money and in being fair and honest with our customers. We seek to build ongoing relationships with our customers, not rely on gimmicks and cut price deals.
---
HSE updates 'Health and safety in care homes'
HSE has launched the revised Second edition of Health and safety in care homes (HSG220).

This guidance is intended to help those providing and managing care homes – to give them a better understanding of the real risks and how to manage them effectively. It has been extensively rewritten, with a number of new topics, and brings together key messages on risks to both workers and residents. It will also be of interest to others working in social care.

This new edition is being published in a period of change. At the time of publication (June 2014), HSE and local authorities investigate serious worker and resident incidents. Under the Enforcing Authority Regulations, HSE regulates homes with nursing and local authority owned or run care homes. Other homes are regulated by local authorities.

It is anticipated, however, that the Care Quality Commission (CQC) in England will soon become the lead investigator of incidents where residents have been harmed because of unsafe or poor quality care. These, and any other changes in regulation across Great Britain, will be reflected in future editions.

For more information click here
---
Skills For Care New Care Training Code
This Care Training Code guide has been designed to help organisations purchasing training and development for the adult social care workforce.

The Code provides:
an overview of the core values which should form the basis of social care training and development
questions and issues that should be thought about when purchasing training and development.
Guide for purchasers of training and development
---
The Social Care Institute for Excellence (SCIE) want to hear about dignified, personalised home care which empowers older people with complex needs; those who are frail, those who have chronic health conditions, mental health issues and/or difficult social circumstances.