News & Guidance
---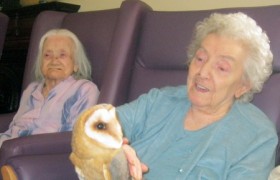 June 2016
---
Care home welcomes animal assisted therapy with visit from Owl Magic
A care home in Paisley has been getting wise with wildlife after receiving a visit from Scotland's largest owl display team.
Bupa's Braemount Care Home in Renfrewshire, welcomed Owl Magic into the home, offering residents the chance to hold and touch the birds and learn about their new feathered friends.
Kate McConville, home manager at Bupa's Braemount care home, was delighted with how well the session with the birds of prey was received.
She said: "It was a really entertaining day for everyone involved and all the residents adored having the owls with us at the home.
"As well as being fun and interesting, animal therapy is also especially beneficial for our residents as it is relaxing and can also be a very social activity.
"Here at Braemount, we try to enrich the lives of our residents as much as possible and this was another example of how we aim to do that."
Residents were encouraged to interact with the different breeds – from the smaller scopus owl to the much larger snowy owl – all of which have been highly trained to handle any situation.
Animal-assisted therapy (AAT) is recognised as an innovative occupational therapy within psychology to improve an individual's social, emotional, or cognitive functioning.
Animal-assisted therapy has been shown to have significant benefits for care home residents, especially those living with dementia, as physical contact with the animals is therapeutic, stimulates a social response and reduces stress.
The visit at Braemount care home was such a hoot that the residents have requested the owls make a return visit, which will be organised in the coming months.
Owl Magic is the largest travelling owl display team in Scotland and based in Ayrshire. They travel across Scotland and the Borders to give people the chance to meet the birds from all over the World.
For more information visit: http://www.owl-magic.com/news/